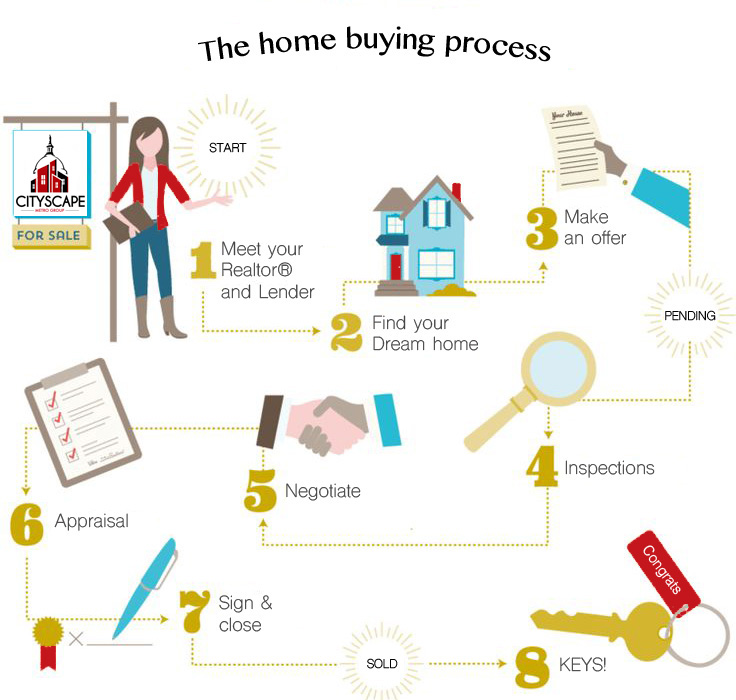 What Can an Agent Do for You??

You've watched all the HGTV shows, listened to friends horror stories about their terrible experience with their home purchase and have now sworn off Agents. "What can they do for me?" Right?

Well...

At CityScape Metro, we take the time to educate you about your ideal market. We analyze your wants and needs and guide you to the homes that fit your criteria. Sure, now some resources allow you to do that in some shape, however, we have many market resources that are not available to the general public. So an CityScape Metro can actually increase the number of homes that match what you're looking to buy!

Did you know?

Unless you are dealing with a For Sale By Owner property, Sellers are represented by a Listing Agent. Unless you choose to sign a Dual Agency Agreement with that Realtor, their obligation is to the SELLER and the SELLER's best interest and not yours. Meaning if you choose to try and buy without representation, you run the risk of potentially being taken advantage of in the process! Working with CityScape Metro guarantees you have someone representing you and making sure YOUR best interests are taken into account!

What Else Does CityScape Metro Do for Me?
When you work with CityScape Metro, you are not getting an agent who shows you a bunch of homes that don't fit your needs or criteria. At CityScape we take the time to listen to your wants and needs, and most importantly, we don't waste your time showing you houses you don't want- or worse, houses you LOVE but can't afford! We also save our clients money with our negotiating skills and market knowledge which can help save you money when buying your home.

On average, we save our buyer clients more money on their closing costs, which means you could potentially bring as little as $20 to closing to buy your dream home!

We help coordinate the work of all the needed professionals for the transaction. We negotiate on your behalf with the Seller or their Agent and solve any problems that may arise. We communicate with your Lender to make sure everything is on track to meet your deadlines, and that your financing is secured. Lastly, we double check that all contracts and paperwork are submitted according to deadlines set by your lender and the agreed upon contract. In short, we take the stress that can come from buying out of your hands and deal with it for you!


Let us help you navigate through this ever-changing market we call Real Estate. Whether you are a first-time buyer or a seasoned vet, we will be here to ensure you are getting the best service possible. Contact one of our
experts
with any questions!
John Murdock is a true professional in every sense of the word. From start to finish I was extremely happy, confident, and impressed with John and his team. Not only did he display a great knowledge of homes in the area, and the overall real estate market, he did an excellent job working with my lender and the selling agent. I can not recommend John enough!
by Sam Courtney
Working with Brittany was like a night and day experience as working with other realtors. She was really responsive and took seriously even our oddest requests in our home search! She also helped us sell our home and we ended up with amazing pictures for our listing and great timing that really helped bring in the right kind of buyers. She gave great tips as we were finishing up the renovations on our home of what would make our home more desirable to buyers. In the end we only had our home up on the market for one weekend and got three competitive offers over asking price and above market value. She negotiated quickly, helped guide us through the process and we were so amazed at how quick and easy the whole process was. Brittney is fantastic. I always recommend her and she has helped more of my friends and family have great home buying and selling experiences!! We LOVE Brittany!
by Jenna Myers
Brittany was always one step ahead of us. My fiance and I were first time home buyers and had every question imaginable, and more, and Brittany was always willing and able to find out the answers. I highly recommend her to anyone looking to buy their first home or anyone who is an experienced buyer but needs a professional! She has the best negotiating skills and you will be happy you chose her!
by Samantha Bernstein
Kyle did a nice job showing us around to properties and working with us and his partner to help us by our home. They provided us with a number of recommendations for lenders, vendors, etc. and we were very happy with the rates, service, and speed with which everyone kept the process moving.
by Drew and Joanna Tidwell
We were so fortunate to have worked with Kyle Panthen when we moved to Northern Virginia. As our Realtor, he helped us find the right house, in the right neighborhood, for the right price. He was patient and made himself available as we traveled from Georgia to look at homes. Kyle went above and beyond to make the purchasing experience seamless. He took care of every detail with the seller's realtor to complete all paperwork, inspection and any other requests given that we were not located in Virginia at the time. In short, he was always on our side working to make our house purchase as simple and successful as possible. The best part about working with Kyle, was that he was always more focused on answering our questions, giving us good advice, and finding homes that met our needs than he was on closing a deal. We would recommend him to anyone.
by Jeff and Lauran Thomas
Oh my where do I start, it's difficult because from the get go It was a beyond amazing experience. I was able to think up ideas of how I wanted my home to be and Brittany went straight to work searching. I was able to find my dream home within the first 5 homes we look at. If you ever need a realtor I got the person for you, Brittany made the home purchase a piece of cake. Thank you oh so much, I look forward to doing more business with you in the near future :)
by Juan Quintanilla