Monday, November 6, 2017 / by Brittini Martinez
Looking for something fun to do with the family before the Holidays? Check out these events going on in the Capital this month!
Scott Kelly: A Year in Space – Nov. 3
George Washington University's Lisner Auditorium will host astronaut Scott Kelly in conversation with NPR's Joe Palca. Kelly has participated in four space flights and holds the American record for most consecutive days spent in space. With his new book, Endurance: A Year in Space, A Lifetime of Discovery, guiding the way, Kelly will share stories and experiences that you will not hear anywhere else.
7 p.m. | Tickets
Lisner Auditorium, 730 21st Street NW, Washington, DC 20052
•••
2017 Local First Awards – Nov. 9
Local businesses that make DC thrive will be honored at Blind Whino SW Arts Club on Nov. 9. The event begins with awards for seven categories, including Maker, Ripple Effect, Green Thumb and Builder (check out the event page for full descriptions). After DC entrepreneurs and artists are honored, it's time for a dance party that will also include food pop-ups, artist installations, an artisan market and brews from DC Brau, 3 Stars Brewing Company, Atlas Brew Works and Right Proper Brewing Company. A VIP ticket gets you exclusive access to an opening reception.
7 – 10 p.m. | Tickets
Blind Whino SW Arts Club, 700 Delaware Avenue SW, Washington, DC 20024
•••
Pay Tribute This Veterans Day – Nov. 11
On Veterans Day, many of the monuments and memorials in the nation's capital honor servicemen and women, while the city's museums are packed with important military history that sheds light on the immense sacrifices that the U.S. Armed Forces have made to protect this country. Learn more about these must-see observances and museum exhibits, which make for a memorable and moving Veterans Day experience.
Citywide
•••
Mount Vernon Salutes Veterans – Nov. 11
In honor of Veterans Day, George Washington's Mount Vernon honors those who served our country with a day of special programming. All active duty, former or retired military personnel are admitted to the estate for free and welcome to place a flower at Washington's Tomb, where a wreath-laying ceremony will be held by Sons and Daughters of the American Revolution. Mount Vernon will also host patriotic performances by the Harmony Heritage Singers and the United States Air Force String Orchestra.
9 a.m. – 4 p.m. | Tickets (active, former or retired military personnel enter free)
George Washington's Mount Vernon, 3200 Mount Vernon Highway, Mt. Vernon, VA 22121
• • •
Crafty Bastards Arts & Crafts Fair – Nov. 11-12
Washington City Paper hosts Crafty Bastards for the 14th year, showcasing handmade goods from independent artists at Nationals Park across two days this November. One-day admission will only cost you $6, while two days only runs $10. The fair will feature clothing, jewelry, toys, DIY kits, original art, food from local vendors and much, much more.
10 a.m. – 5 p.m. | Tickets
Nationals Park, 1500 South Capitol Street SE, Washington, DC 20003
• • •
FotoWeekDC – Nov. 11-19
Celebrating fine art photography, photojournalism, world-class artists and up-and-coming shutterbugs, FotoWeek DC returns to inspire all through powerful imagery, marking the 10th anniversary of the festival. Marvel at more than 150 programs, exhibits and events throughout the city, or submit your photos for competition. An opening party will be held at the FotoWeek's central campus at 2801 16th Street NW on Nov. 10, with an open bar, live music, exhibition viewings and of course, photo booths.
Schedule of Events
• • •
DC Cocktail Week – Nov. 13-19
Dozens of DC restaurants will participate in this celebration of mixology curated by the Restaurant Assocation Metropolitan Washington. DC Cocktail Week will showcase innovative drinks, letting local bartenders put their creative brains to work. These tasty creations will be paired with dishes to inspire flavor explosions that you will not want to miss. Local distilleries like Green Hat are getting in on the act, contributing to many of the cocktails that will be prepared. So, head to your favorite watering hole or discover a new gem during this week of bar-time bliss.
• • •
Capital Food Fight – Nov. 16
The nation's capital is surely a food capital, and this Food Fight promises to be one for the ages. Some of DC's best and brightest chefs will compete in an all-star showcase that directly benefits DC Central Kitchen. This creative culinary battle features a judge panel that includes Spike Mendelsohn, Fanny Slater, Adam Richman and Washington Nationals star Ryan Zimmerman, as local chefs battle head-to-head using a secret ingredient. Guests can also enjoy tastings from more than 80 local restaurants.
General Admission: 6 p.m. | VIP Reception: 5 p.m. | Tickets
Ronald Reagan Building and International Trade Center, 1300 Pennsylvania Avenue NW, Washington, DC 20004
• • •
Museum of the Bible Grand Opening – Nov. 17
Get your tickets to one of the most highly anticipated museum openings that DC has seen in years. The Museum of the Bible is located two blocks from the National Mall, a 430,000-square-foot building featuring one of the world's largest privately-held collections of Biblical artifacts, as well as numerous interactive elements. The museum will also house a 500-seat theater, a children's area, a restaurant and a rooftop garden.
Tickets
Museum of the Bible, 400 4th Street SW, Washington, DC 20024
• • •
Holiday in the Park at Six Flags America – Nov. 18 – Jan. 1, 2018
Beautiful lights, seasonal food and holiday-themed attractions and characters make up this Christmas event at Six Flags America. Running during weekends and select days from Nov. 18 - Jan. 1, make the drive to enjoy the thrills of Six Flags accompanied by plenty of holiday cheer.
Tickets
Six Flags America, 13710 Central Ave, Bowie, MD 20721
• • •
Season's Greenings – Nov. 23 – Jan. 1, 2018
The annual holiday show at the United States Botanic Garden includes a collection of DC landmarks made entirely from plant materials, including the U.S. Capitol Building, the Washington Monument , the Lincoln Memorial and many more. On select Tuesday and Thursday evenings in December, the Conservatory will stay open until 8 p.m. to host live seasonal music.
10 a.m. – 5 p.m. | Free admission
United States Botanic Garden, 100 Maryland Avenue SW, Washington, DC 20024
• • •
Downtown Holiday Market – Nov. 24 – Dec. 23
This free-to-frequent downtown bazaar is centrally located at 8th and F Streets NW, in front of the Smithsonian American Art Museum and National Portrait Gallery. Scope out eclectic wares from dozens of pop-up tents with seasonally flavored music performed live in the background. Locally roasted coffee and crafted-before-your-eyes mini-doughnuts inspire a cold-weather appetite, creating a holiday atmosphere you won't find anywhere else in DC.
12 – 8 p.m. daily
Centered at 8th and F Streets NW, Washington, DC 20001
• • •
ZooLights – Nov. 24 – Jan. 1, 2018
Head to ZooLights at the National Zoo for a wildly vibrant display of LED Christmas lights (a half-million of them!), along with activities like Zoo Tubing and special themed nights like BrewLights (Nov. 30). The kids will love the National Zoo Choo-Choo (a train ride through the Great Cats exhibit), while the big kids enjoy spiked hot chocolate and live music.
5 – 9 p.m. | Free Admission
National Zoo, 3001 Connecticut Avenue NW, Washington, DC 20008
• • •
Christmas at Mount Vernon – Nov. 24 – Jan. 6, 2018
George Washington's estate knows how to celebrate the holiday season like few other locales in the DMV area. During daylight hours, tour the gorgeous mansion, have holiday coffee and dessert with Martha Washington, witness chocolate-making demonstrations and hang out with the estate's favorite pet, Aladdin the Camel. At nighttime, tour the estate by candlelight and on Dec. 15 and 16, enjoy an incredible fireworks display along the Potomac River. Mount Vernon stays open every day of the year.
Tickets
George Washington's Mount Vernon, 3200 Mount Vernon Memorial Highway, Mount Vernon, VA 22121
• • •
4th Annual CityCenterDC Holiday Tree Lighting – Nov. 25
CityCenterDC will light its jaw-dropping 75-foot Christmas tree during a cheerful (and free) celebration two days after Thanksgiving. In addition, the ceremony will feature a countdown hosted by NBC4's Eun Yang, a holiday concert, balloon artists, face painters, jugglers and holiday-themed activities. Attendees will also be wowed by CityCenter's 25-foot reindeer and a gorgeous arrangement of lights along Palmer Alley.
6 p.m. | Free admission
CityCenterDC, 825 10th Street NW, Washington, DC 20001
•••
National Christmas Tree Lighting Ceremony – Nov. 30
The National Christmas Tree is DC's claim to fame during the holidays, and for good reason. Each year the National Park Service and National Park Foundation present the annual National Christmas Tree Lighting, featuring popular entertainers and musical artists to add to the festivities. And if you can't make it to the lighting ceremony, the gorgeous conifer lives in President's Park on the White House Ellipse, where it's accompanied by nightly musical performances throughout the holiday season.
President's Park, 1450 Pennsylvania Ave NW, Washington, DC 20230
•••
Holiday Ice Skating
'Tis the season to strap on the skates and glide. By mid-November, experience the ice inside the National Gallery of Art's enchanting Sculpture Garden, rejoice in riverfront views at Washington Harbour in Georgetown and savor the Canal Park rink, which offers a winding track set against an alluring cityscape in the Capitol Riverfront neighborhood. New this year, an ice skating rink will add to the many things to see and do at The Wharf, DC's newest entertainment district.
Museum Exhibits
'Divine Felines: Cats of Ancient Egypt' – Through Jan. 15, 2018
Although cats are great for internet memes now, felines were spiritual beings in ancient Egyptian times. The newly redesigned Freer | Sackler Galleries bring you this exclusive exhibit that mines the importance of the cat in society from the Middle Kingdom to the Byzantine Period, including their status in religious and political life. You'll be able to see more than 80 works in the display, from statues and amulets to household items made to look like felines.
10 a.m. – 5:30 p.m. | Free admission
Freer | Sackler Galleries, 1050 Independence Avenue SW, Washington, DC 20560
• • •
Subodh Gupta: 'Terminal' – Through 2020
A new large-scale installation from internationally appreciated artist Subodh Gupta resides in the Sackler Pavilion. Terminal is made from towers of brass containers that are connected by thread, creating a glimmering landscape. The spires within the installation range from one to 15 feet tall, reminding one of architectural features found on churches, temples and mosques.
10 a.m. – 5:30 p.m. | Free admission
Freer | Sackler Galleries, 1050 Independence Avenue SW, Washington, DC 20560
• • •
'Encountering the Buddha: Art and Practice across Asia' – Through Nov. 29, 2020
More than two hundred pieces of Buddhist art comprise this new exhibit from the Freer | Sackler Galleries. Spread across two millennia, the works show Asia's powerful Buddhist heritage. You'll learn how the art is perceived to have sacred power, how Buddhists have engaged with the works, how the religious understanding of the pieces differs from the practical one and the contexts within which said art was created.
10 a.m. – 5:30 p.m. | Free admission
Freer | Sackler Galleries, 1050 Independence Avenue SW, Washington, DC 20560
• • •
'Beautiful Blooms: Flowering Plants on Stamps' – Through July 14, 2019
The National Postal Museum highlights the role of the flowering plant on U.S. postage stamps over the last 50 years in this new exhibit. See developmental and final artwork that shows how important design artwork is to the completion and production of a postage stamp. Common artistic themes, like the relationship between flowering plants and bees, will also be explored in the exhibit.
10 a.m. – 5:30 p.m. | Free admission
National Postal Museum, 2 Massachusetts Avenue NE, Washington, DC 20002
• • •
'Tamayo: The New York Years' – Nov. 3 – March 18, 2018
This exhibit will examine the incredible influences between the work of Rufino Tamayo and the American art scene, a first for a major museum. Tamayo was a Mexican artist who lived in New York City off and on for almost three decades, composing Modernist paintings that incorporated Mexican subjects into urban and dreamlike settings, as well as a series of animal paintings that receive a special focus in the exhibit. See how Tamayo was inspired by American artists like Jackson Pollock, and how the Mexican painter became a symbol of a 20th century shift in American art.
11:30 a.m. – 7 p.m. | Free admission
Smithsonian American Art Museum, 8th and F Streets NW, Washington, DC 20004
• • •
'The Sweat of Their Face: Portraying American Workers' – Nov. 3 – Sept. 3, 2018
The work of famous artists like Winslow Homer and Dorothea Lange will be on display in this new exhibit at the National Portrait Gallery. The face of the American laborer has undergone radical change over time, and this development will be showcased across several genres of art. Roughly 75 pieces will be on display, depicting slaves, steel workers, child workers and many more, highlighting the gradual change of the labor landscape in America.
11:30 a.m. – 7 p.m. | Free admission
National Portrait Gallery, 8th and F Streets NW, Washington, DC 20001
• • •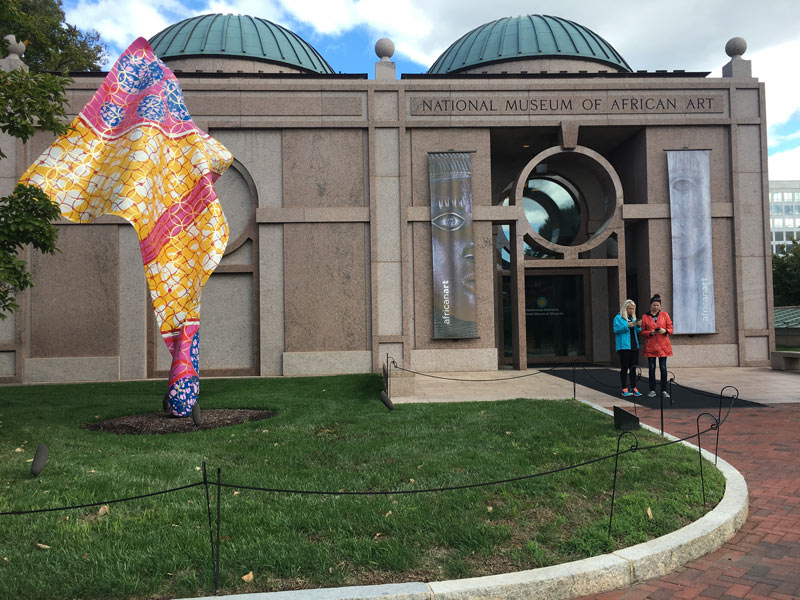 'Visionary: Viewpoints on Africa's Arts' – Opens Nov. 4
Experience African art from a new perspective in this expansive exhibition that comes to the Smithsonian National Museum of African Art on Nov. 4. More than 300 works of art will be featured across seven rooms, with each room representing a different viewpoint on the pieces within. Technique, context and creative expression will all be considered, as Visionary frames the museum's extensive collection of sculptures, paintings, photographs, ceramics and video in a whole new way.
10 a.m. – 5:30 p.m. | Free admission
Smithsonian National Museum of African Art, 950 Independence Avenue SW, Washington, DC 20560
• • •
'Mark Bradford: Pickett's Charge' – Nov. 8 – Nov. 12, 2018
Mark Bradford's new work at the Hirshhorn will span roughly 400 linear feet inside the cutting-edge Smithsonian museum. Pickett's Charge is a series of eight abstract paintings that depict the final charge of the Battle of Gettysburg, commonly noted as the most important battle of the Civil War. The result is a thought-provoking rumination on how we interpret history and the complexities of war. Bradford's installation will also suggest issues faced by the American people today.
10 a.m. – 5:30 p.m. | Free admission
Hirshhorn Museum and Sculpture Garden, 7th Street and Independence Avenue SW, Washington, DC 20024
• • •
Recent Acquisitions at the National Portrait Gallery – Nov. 17 – Nov. 4, 2018
Savor some of the National Portrait Gallery's newest additions in this special exhibit. You can marvel at works featuring Madeleine Albright, Spike Lee, Rita Moreno, Francis Scott Key and many more in this 27-piece display. See the story of America and witness the powerful impact of great portraiture as you journey through the fascinating collection.
11:30 a.m. – 7 p.m. | Free admission
National Portrait Gallery, 8th and F Streets NW, Washington, DC 20001
• • •
'Making Room: Housing for a Changing America' – Nov. 18 – Sept. 16, 2018
Housing demands in America have shifted dramatically in the last 50 years. Nuclear families make up just 20% of America's housing community today, compared to 40% in 1970. Nearly 30% of those looking for homes are single adults, a demand that has not yet been met by supply. The National Building Museum's exhibit will explore how housing innovators are attempting to handle this development, showcasing new models and designs along the way. Making Room will also feature The Open House, a 1,000-square-foot home designed by architect Pierluigi Colombo that is hyper-efficient and wholly adaptable.
Hours & Admission
National Building Museum, 401 F Street NW, Washington, DC 20001
• • •
'In the Tower: Anne Truitt' – Nov. 19 – April 1, 2018
For the first time, the work of Anne Truitt will be showcased in a major exhibition at the National Gallery of Art. Experience the development of Truitt's work across 50 years through nine sculptures, 12 paper works and two paintings. Some of the artist's most acclaimed pieces will be on display, highlighting her successful use of different forms of media.
Hours | Free admission
National Gallery of Art East Building, 4th Street and Constitution Avenue NW, Washington, DC 20565
• • •
Jackson Pollock's 'Mural' – Nov. 19 – Oct. 28, 2018
On loan from the University of Iowa Museum of Art, Jackson Pollock's largest work will reside in the National Gallery of Art's East Building through October of next year. Muralis nearly 20 feet long, a work originally commissioned by Peggy Guggenheim for her New York City home. The piece represents a dynamic shift in Pollock's style, making it one of the most important compositions in the painter's storied career.
Hours | Free admission
National Gallery of Art, 4th Street and Constitution Avenue NW, Washington, DC 20565
Theater
Washington National Opera: 'Alcina' – Nov. 4-19
This tale of Alcina, a sorceress who, when tired of her subjects, turns them into stone or beasts, will bring all kinds of magic to the Kennedy Center this November. Handel's baroque opera also concerns the knight Ruggiero, who has the power to overcome Alcina's cruelty. Eisenhower Theater hosts this tale of enchantment, seduction and fantasy.
Tickets
The John F. Kennedy Center for the Performing Arts, 2700 F Street NW, Washington, DC 20566
• • •
'Top Girls' – Nov. 4 – Dec. 2
Winner of the 1983 Obie Award for Best Play, Top Girls addresses issues of feminism and family ties. Five women from the past are invited to a dinner party hosted by Marlene, the manager of the 'Top Girls' employment agency. The surreal scene includes an adventurer, a dedicated wife and even a transvestite Pope, as playwright Caryl Churchill contemplates the lives of working women who are vastly different from each other.
Tickets
The Keegan Theatre, 1742 Church Street NW, Washington, DC 20036
• • •
'Crazy for You' – Nov. 7 – Jan. 14, 2018
The music of the famous Gershwin brothers guides this Tony Award-winning holiday spectacular. When a banker heads to a small town to foreclose on its theater, his love of music causes him to revive it instead. This decision leads to mistaken identities, a love story and a whole lot of 1930s flair that audiences will love. Prepare to tap your feet to numbers like, "I've Got Rhythm" and "Nice Work If You Can Get It."
Tickets
Signature Theatre, 4200 Campbell Avenue, Arlington, VA 22206
• • •
'Nina Simone: Four Women' – Nov. 10 – Dec. 24
Nina Simone's voice was a pillar of the Civil Rights Movement, and this production explores the profound effect that the 16th Street Baptist Church bombing of 1963 had on Simone, her work and the nation. Featuring some of the singer's most powerful songs, audiences will be inspired by playwright Christina Ham's journey into the psyche of an iconic artist and activist.
Tickets
Arena Stage, 1101 6th Street SW, Washington, DC 20024
• • •
The Second City Presents 'Nothing to Lose (But Our Chains)' – Nov. 11 – Dec. 31
Comedian Felonious Munk stars in this hilarious production that incorporates his own harrowing backstory. From the creators of last year's Black Side of the Moon, which was a huge hit for Woolly Mammoth Theatre Company, comes this tale of an African-American man who went from six years in prison to a six-figure job to a career in satire and activism. Expect laughs and plenty of thought-provoking moments during this Second City production.
Tickets
Woolly Mammoth Theatre, 641 D Street NW, Washington, DC 20004
• • •
'Twelfth Night' – Nov. 14 – Dec. 20
One of The Bard's greatest heroines comes to life on the stage of Sidney Harman Hall courtesy of Shakespeare Theatre Company. Twelfth Night is the tale of Viola, who shipwrecks on the coast of Illyria and quickly disguises herself as an assistant for one Duke Orsino. Soon enough, Viola is immersed in a love triangle, running into other fascinating characters along the way. Considered one of Shakespeare's funniest plays, don't miss director Ethan McSweeny's imaginative take on this classic.
Tickets
Sidney Harman Hall, 610 F Street NW, Washington, DC 20004
• • •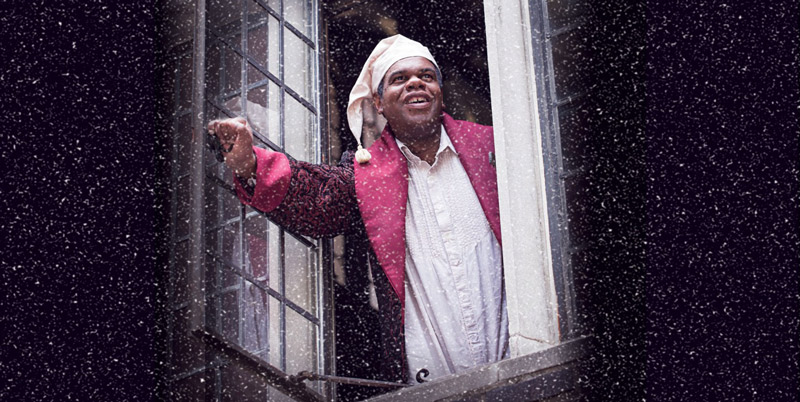 'A Christmas Carol' – Nov. 16 – Dec. 31
Acclaimed actor Craig Wallace assumes the role of Ebenezer Scrooge in a lavish Victorian-style musical production of Charles Dickens' timeless classic, the staging of which is a time-honored holiday tradition in the nation's capital. Scrooge's riveting journey alongside the ghosts of Christmas Past, Present and Future is a joy even if you've experienced it a hundred times before – especially in one of the world's most historic theaters.
Tickets
Ford's Theatre, 511 10th Street NW, Washington, DC 20004
• • •
'Me … Jane: The Dreams & Adventures of Young Jane Goodall' – Nov. 18 – Dec. 10
Dr. Jane Goodall is the world's most famous conservationist and animal activist, and the Kennedy Center will welcome a new musical adaptation of her life as a child and how it influenced her incredible work. The entire family will love the tale of Jane and her toy chimpanzee, Jubilee. Together, the duo discovers why it's so important to care for all living creatures, with memorable songs lighting the way.
Tickets
The John F. Kennedy Center for the Performing Arts, 2700 F Street NW, Washington, DC 20566
• • •
NSO Pops: 'Harry Potter and the Chamber of Secrets' in Concert – Nov. 24-26
The National Symphony Orchestra brings a classic Harry Potter film to life. The entire family can enjoy the second installment in the Harry Potter series, The Chamber of Secrets, in startling high definition on a giant screen while the Orchestra plays every note of John Williams' unforgettable score. You'll be dazzled as Harry embarks on his second year at Hogwarts, where magical adventures await.
Tickets
The John F. Kennedy Center for the Performing Arts, 2700 F Street NW, Washington, DC 20566
• • •
'Gobsmacked!' – Nov. 24-26
This international sensation comes to the Kennedy Center for one weekend only this November. Gobsmacked! is an entirely a-cappella theatrical experience, incorporating beatboxing, singing, dancing and the spoken word to incredible effect. The production does not use a single instrument, instead utilizing the talents of world-class singers to create entertainment like you've never seen before.
Tickets
The John F. Kennedy Center for the Performing Arts, 2700 F Street NW, Washington, DC 20566
• • •
The Washington Ballet: 'The Nutcracker' – Nov. 25 – Dec. 24
The Washington Ballet pulls out all the stops for this classic Christmas tale that features a special DC twist. The Russian ballet goes local thanks to a Nutcracker Prince in the likeness of George Washington and cherry blossom set designs. Set in historical Georgetown, you will be dazzled by an impressive roster of dancers and the beautiful Tchaikovsky score. The production is staged at THEARC Theater on Nov. 25-26, then shifts to the Warner Theatre from Nov. 30 – Dec. 24.
Tickets
THEARC Theater, 1901 Mississippi Avenue SE, Washington, DC 20020
Warner Theatre, 513 13th Street NW, Washington, DC 20004
• • •
'Curve of Departure' – Nov. 29 – Jan. 7, 2018
On the night before a funeral, an entire family descends upon a single room in a New Mexico hotel. The future is not clear as the family discusses absentees and logistics. Playwright Rachel Bonds dives into the dynamic among the relations, and how one decides how far they'll go to help someone they owe nothing. Expect meticulously crafted dialogue and resonant performances in this Studio Theatre production.
Tickets
Studio Theatre, 1501 14th Street NW, Washington, DC 20005
Music
The Shins – Nov. 2
Did you listen to indie rock in the 2000s? Then you listened to The Shins. The brainchild of James Mercer (also of Broken Bells with Danger Mouse), the group rose to indie stardom with the '60s-indebted bedroom pop of 2001's Oh, Inverted World, which featured the classic track, "New Slang". After receiving healthy exposure in Zach Braff's 2004 film Garden State, The Shins became essential listening, a necessity on any stereo in a college dorm room. Mercer has taken the act back on the road this fall, and fortunately makes a stop in the nation's capital.
8 p.m. | Tickets
The Anthem, 901 Wharf Street SW, Washington, DC 20024
• • •
Rebirth Brass Band – Nov. 3
With a sound that will transport you to the French Quarter, the Rebirth Brass Band is sure to pack the dance floor at the Hamilton Live. Founded in 1983, the group has gone from playing street gigs in New Orleans to bringing their signature sound to venues all over the world. Join in this Friday night party that is sure to liven up a fall evening out on the town. The group will be doing both an early and late show, so pick the one that works best for you.
7 p.m. & 10:30 p.m. | Tickets
The Hamilton Live, 600 14th Street NW, Washington, DC 20005
• • •
Ariel Pink – Nov. 5
Ariel Pink is the king of weird, a prolific artist known just as much for controversial comments and stage antics as he is for his zany, but breathtaking, musical oeuvre. His new album is dedicated to a fellow L.A. musician presumed dead for 35 years, if that gives you any indication of Pink's artistic leanings (purchasing a ticket to the show gets you a free digital download of the album!). However, one listen to "Put Your Number In My Phone," and we're sure you'll want to catch this savant at 9:30 Club.
7 p.m. | Tickets
9:30 Club, 815 V Street NW, Washington, DC 20001
• • •
Courtney Barnett & Kurt Vile – Nov. 7
One from Australia, one from Philadelphia, both outstanding songwriters and performers. Courtney Barnett is a rock and roll treasure, with songs that address elevator operators, awkward encounters at swimming pools, trouble breathing and lots more, all with striking wit and wordplay, not to mention a fantastic backing band. Kurt Vile is rock's favorite slacker…who in fact does not slack at all, releasing album after album of acclaimed material. The two will perform together at The Anthem, a double bill not to be missed by any rock fan, in promotion of their collaborative album, Lotta Sea Lice.
8 p.m. | Tickets
The Anthem, 901 Wharf Street SW, Washington, DC 20024
• • •
AJJ – Nov. 8
AJJ (short for Andrew Jackson Jihad) are about as forthright and political as bands get, which makes them a perfect fit to perform in DC. In recent years, the group has expanded their folk-punk sound from acoustic guitars and stand-up bass to full-fledged rock instruments, and they haven't missed a beat. Don't miss out on their healthy dose of realism (with messages of love and protest scattered throughout) inside the intimate Rock & Roll Hotel.
8 p.m. | Tickets
Rock & Roll Hotel, 1353 H Street NE, Washington, DC 20002
• • •
Grizzly Bear – Nov. 8
This Brooklyn four-piece is responsible for some of the most creative and breathtaking indie pop of the past decade. Grizzly Bear began as a solo project of lead singer Ed Droste, then quickly grew into a four-piece band, with the group's breakthrough coming in 2009 with the release of Veckatimest, which featured the unforgettable "Two Weeks". Now, the band is touring its new album, Painted Ruins, its first release in five years. Expect glorious harmonies and sublime playing at this show at The Anthem.
8 p.m. | Tickets
The Anthem, 901 Wharf Street SW, Washington, DC 20024
• • •
Janet Jackson – Nov. 16
An icon of pop music, Janet Jackson is still going strong in a career that now spans more than three decades. Since 1986's Control re-defined R&B music, Jackson has continued to release albums that test the boundaries of the genre, and her tours have amazed audiences around the world. From "Nasty" to "That's the Way Love Goes" to "All For You," she has performed some of the biggest songs in pop's long history, so don't miss this living legend when she comes to the District's Capital One Arena.
8 p.m. | Tickets
Capital One Arena, 601 F Street NW, Washington, DC 20004
• • •
Lady Gaga – Nov. 19
Grammy winner. Golden Globe winner. More than 30 million albums sold around the world. Lady Gaga's credentials are mind-blowing, but her music must be heard and witnessed live to truly grasp the artist's mastery of her craft. No fear: Gaga and plenty of Little Monsters (a nickname for her diehard fans) will take over Capital One Arena for a night of revelry, featuring dancing, pyrotechnics and one of the best voices pop music has ever known.
7:30 p.m. | Tickets
Capital One Arena, 601 F Street NW, Washington, DC 20004
• • •
St. Vincent – Nov. 27
Equally capable of writing a heart-wrenching ballad, a pulsing rock song or a beautiful pop melody, St. Vincent (the stage name of Annie Clark) is an artist that demands to be heard. Her bold songs and albums, catapulted by her incredible guitar heroics, translate into searing live performances. 2014's St. Vincent was showered with awards and accolades, and her new album, Masseduction, is on pace for the same. The Anthem hosts the talented artist the Monday after Thanksgiving.
8 p.m. | Tickets
The Anthem, 901 Wharf Street SW, Washington, DC 20024
• • •
Jay-Z – Nov. 29
Jay-Z is hip-hop royalty, and an argument could be made that he is the greatest rapper of all-time. In a career now more than 20 years old, he can still top the charts with each release, as he did with this year's 4:44. His live shows are epic affairs, showcasing his incredible run of hits and Jay's magnificent wordplay. He'll be joined by up-and-coming star Vic Mensa during this concert at Capital One Arena. Jay's megastar status means tickets to this one will go quickly.
8 p.m. | Tickets
Capital One Arena, 601 F Street NW, Washington, DC 20004


















































































article provided by Washington.org
---